October 1, 2015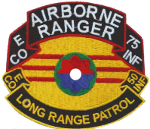 Gentlemen and members of our extended family:
Your New Unit Director: I am honored to introduce to you the new E50/E75 Unit Director, Jeff Webb.
Vincent C. Webb, also known as "Jeff", is from Long Island, New York. He entered U. S. military service in September 1968 and served with E Co. 75th Infantry (RANGER) from February 1970 until his DEROS in September of 1970.
Jeff, and his second wife, Lynda, have 4 children and 5 grandchildren between them. Jeff's son, Peter, is currently serving as a Captain with the 7th Special Forces Group.
Jeff earned a degree in accounting and spent many years in the financial sector before becoming a custom home builder in his home town of Wilton, Connecticut.
He can be reached on e:mail at vcwebb@gmail.com or by USPO mail at 56 Freshwater La, Wilton, Ct. 06897 or by telephone at 917-975-4646.
Jeff demonstrated his exceptional organizational skills and calm demeanor by organizing and executing our tour to New York City and our visit to the 911 Memorial and Museum and the Statute of Liberty during the 2015 National Reunion. He had 35 votes from 35 of the men at the reunion.
2015 Reunion – Newburgh, New York – A Recent Memory:
I am pleased to report that the 2015 E50/E75 National Reunion was a resounding success. Roy, Tyrone and Jeff worked their itinerary flawlessly. Thanks to everyone who worked on, coordinated, attended, participated in, called to support, donated to, had fun with and did so without a discouraging word.
Some of us arrived early on Saturday; others arrived on Monday; while others arrived throughout the week. By Saturday we had a total of 60+ folks participating – some all week; others a day or two.
With the exception of our trip to New York City and the tour of West Point, which were by tour bus companies, our transportation needs were met by private or rental vehicles. Thank you to the folks who shuttled us around.
We had several very notable days: Wednesday, September 23, 2015 – the day we will travelled to New York City to visit the 911 Memorial and Museum and the Statue of Liberty. The museum was remarkable, moving and a little bit over whelming. Seeing parts of the airplanes, the twisted I-beams and the assorted fire fighter equipment caused many of us to remember the Americans who were lost that day. The gallery where the initial news broadcasts were played flooded us with memories of where we were when we heard the news of the attack.
From the museum we walked to Bill's Bar & Burgers for lunch and then onto the ferry which took us to the Statue of Liberty.
Jeff Webb and his wife, Lynda, "reconned" the city prior to our visit to work out the details of how much time we would need to move 40+ people from one location to another. Their preplanning worked flawlessly. We boarded our tour bus at 07:00 hrs. and we returned to the hotel at 18:30 hrs.   I reported to Sharon Barley by text message, "All is good. 40 in and 40 out".
Thursday, September 24, 2015.Our morning began with a tour of West Point and our Unit Memorial Service in the Old Cadet Chapel. The staff at West Point provided a Color Guard, firing squad, a representative from the academy, a chaplain and a bugler. Roy Barley read the Unit history; Rick Stetson read the names of our KIAs. The ceremony was somber and appropriate and memorable for our KIAs and those present.
After our memorial service Rick and Brent gathered us at the grave of General Wayne Downing to lay a floral wreath. Brent read Clancy Matsuda's tribute to General Downing.
Friday, September 25, 2015 was a special day for some of the guys as they presented their documentation indicating they were recipients of the Purple Heart Medal to the staff of the National Purple Heart Hall of Honor. The staff added their names to the rosters and, in several cases, corrected the information that had been previously entered.
Special thanks to Mrs. Karen Pinder, sister of Sharon Barley, who spearheaded the effort go get our guys registered with the National Purple Heart Hall of Honor. She was an absolute delight to work with and an exceptional steward of the Hall of Honor.
Saturday morning began with the Unit Meeting at 09:00 hrs. I opened the meeting by reminding the guys of my three goals: (1) honor ourselves as veterans, (2) preserve the memory of the men we lost in Vietnam and (3) celebrate those people who today volunteer for service in the armed forces. We pursued the three goals throughout the week.
Guys reported on the following subjects:
Treasurers report (Roy B.): We don't know exactly the balance in the account, but we will be solvent by the end of the reunion.
Our book, "Bonding of Warriors" (Bob H.): We have not quite broken even yet. The book is available on LuLu.com.
Facebook and web sites (written report by Sal): He continues to make adjustments to make them more user friendly.
Our cookbook, "A Recipe Guide: From LRRP Rations To Gourmet Dining (Sharon B.) We have sold between 50-60 books and they are still available. Contact Sharon Barley.
Recap of past reunions: See report below.
Report on members – Clancy Matsuda, John M. Dixon and Hilan Jones. We heard written and oral reports on these men.
Report on the status of our Ranger Hall Of Fame applications (Bob C.): We will continue to submit and refine our applications to the RHOF.
Lest We Forget: We remembered the folks we lost since 2013: Jim Koenig, Steve Hull, Gene K. Lester, Kenneth Marze, Michael Pat Patrick and Houston Ledbetter. And we also remembered Gayle Walden, our "Company
Grandmother" and Nguyen Van Kiet, a Vietnamese Ranger (PRU), who served alongside of us and is one of ours.
Next annual reunion: We voted to hold our 2017 reunion in Las Vegas, NV. Bob Hernandez, Terry Lieshman and Tom Koontz volunteered to plan and coordinate the reunion. We had a lively discussion about the possibility of a mini-reunion in 2016.
Other discussion items: We decided that in future reunions the sale of Tess's reunion "t" shirts will be handled differently. The option to purchase a shirt (as well as choose the color, size, etc.) will be available on the reunion registration form. This will help Tess by eliminating the possibility of him having excess shirts after the reunion. Essentially, if you want a reunion "t" shirt, you will have to order it via the reunion registration form.
Election of Unit Director: After a day of discussion and caucusing, we elected Jeff Webb as our next Unit Director.
Report on Past Reunions:
1993 – Baltimore, MD/ Nelson, Sartwell, Barley, Harter; 1995 – Las Vegas, NV/Rick Ehler; 1997 – Columbia, SC/Ed & Mary Garrison; 1999 – Dallas, TX/ Buster Bosarge; 2001 – Tacoma, WA/ Jessie & Jan Deleon; 2003 – Kalispell, MT/Terry & Dorothy Leishman; 2005 – Orlando, FL/Emory & Shirley Parrish; 2007 – Orlando, FL/Ken Mellick; 2009 – San Diego, CA/ Bob Hernandez & Ron Tessensohn; 2011 – Buffalo, NY / Roy, Sharon & Allison Barley; 2013 – Louisville, KY/John Masick and 2015 – Newburgh, NY/ Roy Barley, Tyrone Muse, Jeff Webb
Saturday night's banquet was a fitting end to a great reunion.  During the banquet we heard from Rick Stetson and Leon Patterson about their meeting in Fort Riley, KA and then again at Bear Cat, Vietnam. Those meetings resulted in a lifelong friendship. Leon, as our banquet speaker, shared his thought about getting acquainted with the LRRPs in Vietnam and how we differed from his unit, the 9th Military Intelligence detachment both before during the war and afterwards.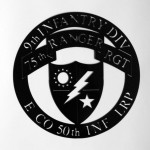 I presented my Unit Director's Service Award to the following Unit members:
Rick Stetson

  He is the recent, past Unit Director and an esteemed

elder;

Roy Barley

  He is an esteemed elder, has coordinated several reunions, currently serves as the Unit Treasurer and "Grief Counselor" and was instrumental in finding many of the guys after the war;

Tyrone Muse

He coordinated many of the memorial services at past reunions and arranged transportation for 2015 reunion. He was also honored by Tess for his service with a distinctive, handmade plaque;

Jeff Webb

He coordinated the day long activities in NYC at the 2015 reunion and is the current Unit Director Elect;

Bob Hernandez & Ron Tessensohn

Together they coordinated the San Diego and Houston reunions. Separately Bob wrote and published our book, "Bonding Of Warriors" and Tess is our company artist. He has produced works of art in shirts, plaques and certificates; Dorothy Lieshman and the Warrior Women honored Tess with a custom, hand-made blanket made by Dorothy. At this time, I will not say much more about the presentation ceremony except to say that Tess was teary eyed at its conclusion. Maybe some photographs of the event will be posted; maybe not.

John Masick

(He coordinated the 2013 reunion in Louisville, KY.); and

Terry Lieshman

(He as attended every reunion – 1993 to 2015).
A photograph of the Unit Director's Service Award is attached. Tom Koontz was instrumental in the design and procurement of the award.
The Warrior Women, led by Sharon Green, Rebecca Myers and Bev Koontz, huddled everyone to honor one of their own – Sharon Barley. Sharon Barley has been involved with many of the past reunions. She was a powerful member of the reunion teams that coordinated the Buffalo, Baltimore and Newburgh reunions. Her extraordinary skills in organizing and managing the fund raising activities, transportation arrangements and controlling the activities in the hospitality room were put to the test during the 2015 reunion. Sharon was presented with a certificate of appreciation, a patriotic blanket and a box of chocolates (Hummmm …) by her compatriots. Their presentation ended with a group "Warrior Woman Salute" to Sharon Barley.
Under the stewardship of Sharon Barley, the following folks contributed items for the various fund raising activities: Bob Wallace, Tony Hanlon, Sharon Barley, Bob Newman, 5. Connie Matsuda, Bruce & Bobbie Lessig, Miles Woolley, Karen Pinder, Rick Stetson, John Masick & Mary Schneider, Jim & Mary Lou Godbolt, Tom & Bev Koontz, Allison Barley & Rob Kozak, Meem Hatala, Alan & Rebecca Myers, Roy Nelson, Dorothy Lieshman, the Barley's, Prescott Smith, Poncho, Tess, Bob Hernandez, Bill Christiansen, Bob & Kathy Copeland and Don & Sue Naughton.
During the evening, we remembered our KIAs and those members of our Unit and extended families who have passed away since our last national reunion in Louisville, KY by setting up a KIA table and acknowledging their passing.
We also recognized our "Special Mentions": 2015 Reunion Coordinators and their wives: Roy Barley (Sharon), Tyrone Muse (Ellen) and Jeff Webb (Lynda); the hospitality room crew: Bob Hernandez, Tess, Tyrone and Gerald Cody; Miles Woolley for attending his first reunion; Tess & Cody for travelling the farthest distance to attend the reunion  – LA to Newburgh; Tony Hanlon & Sharon Green for being the first to register and pay up and Darlene Fisher for being the most senior person in attendance.
Insomuch as 2015 falls within the 10-year long commemoration of the Vietnam War, and in keeping with my goals, we recognized our own and celebrated those who volunteered to serve in the armed forces of the United States. During the banquet we organized the guys by the year they served in Vietnam and/or those who are currently serving in the military. Beginning with the Class of 1966: Don Naughton, Class of 1967: Kirk Elder, John Berg, Doug MacCallum, Ed Kulcavage, Lonny Johnson, Elbert Walden, Rick Stetson, Tom Koontz, Tony Hanlon, Jim Godbolt, Bob Hernandez, Tyrone Muse, Roy Barley, Ed Chaffin and Steve Szabo. Class of 1968: Bruce Lessig, Kenneth McConkey, John Masick, Miles Woolley, Rene Rodrizuez, Bill Christiansen, Gerald Cody, Duane L. Alire, Class of 1969: Alan Myers, Rebecca Myers (sister of Bryan, Robert L., KIA 07/13/70), Stew Koontz, Dennis Listine, Bob Copeland, Ron Tessensohn, Bob Wallace, Paul Newman, Terry Lieshman, Jeff Webb. Class of 1970: Brent Gulick and the Class of 2015: Ray Quesenberry (Currently serving on active duty).
The men were presented with commemorative 50th Anniversary challenge coins inscribed with these words, numbers and letters: E50-E75, 1967-1970, 2015 Reunion, Newburgh, NY.
Tony Hanlon gave the benediction and I closed the 2015 E50/E75 National Reunion by paraphrasing Joe Galloway, author of the book, "We Were Soldiers Once … and Young", when he said, "On behalf of a country that so easily forgets the true cost of war … and who pays the price … I say, Thank You For Your Service. And on behalf of the people of our country who didn't have the good sense to separate the war they hated from the young warriors they sent to fight the war, I Apologize To You For Them. Americans owe us a debt of gratitude that they can never adequately repay."
A Farewell … This is my last Unit Calendar and News Report. I chose to not seek the nomination nor accept the position of Unit Director of E50/E75 for another term. I will pursue other opportunities to invest my time, talents and treasure.
When I was elected Unit Director in 2013 in Louisville, the United States of America Vietnam War Commemoration – a 10-year long recognition of the Vietnam War, had just begun and the idea of a Unit Calendar was born. This is our celebration – not the ticker tape events of past wars but a 10-year long recognition of our service, sacrifice and stories – and I believed it was worthy and timely to focus on the celebration.
The time is right to move on. I've raised the topics I thought I should; I made the best arguments around those subjects; I threw my heart and energy into it; and to a large extent have said what I had to say and done what I wanted to do.
You are my brothers-in-arms … you don't complain … are a special breed of warrior … a little bit crazy but brave … sometimes described as a "punk" and I am not ashamed to say that I love you. I would not trade one of you for a whole trainload of what we call citizens today.
And to paraphrase once again Joe Galloway, "I think about you guys almost every day. I am sure that when I leave this world my last thoughts will be of my family and of you guys". Thank you for allowing me the honor of serving as your Unit Director.
Featured Event – the 2015 E50/E75 Reunion, Newburgh, New York. For those who can view and/or download photographs, I have attached photographs of the reunion. Photograph – 002 is of Miles Woolly (1st reunion) and Terry Lieshman (12+ reunions);  Photograph 008 is of a ;  Photograph 028 is a monument at the entrance to the Purple Heart Hall of Honor; Photograph 035 is of "Sarge" and Poncho at the Purple Heart Hall of Honor; and Photograph 035 is of the Unit Director's Service Award.
LRRPs Led The Way and Rangers Lead The Way!
Duane L. Alire
E50/E75 Unit Director
Disclaimer: I am solely responsible for this report. Any errors, omissions or oversights are mine and mine alone.  Poncho