Gentlemen, Friends and Members of Our Extended Family;
Be it known to all present that Elbert "Cotton" Walden; aka "Sarge" Walden, has reached the exalted age of 80 years as of 23MAR2016.  In recognition of this feat and in recognition of  his Unstinting, Honorable, Courageous and Exemplary Service to His Country and to the Officers and Men of the 9th Infantry Division LRRP/Rangers we offer Our Prayers, Our Love and Our Wishes for Many More.

Sarge made the pilgrimage to NYC for our 2015 Reunion…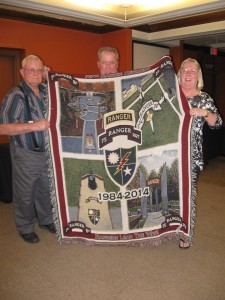 Sarge Walden, it has been a pleasure and an Honor to have worn the same uniform, chewed the same dirt and served this Country.  We speak for every LRRP/Ranger, Past, Present and Future, when we say "HAPPY BIRTHDAY, Sarge!!!"
The Officers and Men of "E" Company, 50th Infantry and "E" Company, 75th Infantry, 9th Infantry Division…and Nhan, too!

HOOAH!  RLTW!!!
Please leave your message and Birthday Wishes for Sarge Walden below: